Rent or Buy Now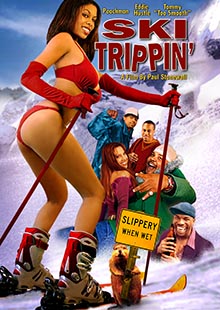 Ski Trippin'
Own It May 01, 2005
Genre: Comedy
Runtime: 82 Minutes
UPC: DVD: MAV-5127, DVD: 824355512724
Storyline
SkiTrippin' is a nonstop comedy adventure revolving around three friends who embark on the vacation of their life! Anticipating a heavy break from the norm of daily life, three friends travel together to a local ski lodge where they attend a radio-sponsored ski event. Of course none of these city slickers has ever skied before, but that doesn't stop them and the pit-falls of the slippery slopes of life. This bumpy and hilarious ride takes you through the eyes of each friend where nothing is taboo on this ski trippin' vacation.

Featuring the slapstick comedy of Tommy '2 Smooth' (BET Comic View, Showtime at the Apollo), the hilarious antics of Poochman (#1 rated DJ) and the slick skills of Grammy award winning producer Eddie Hustle.
Directed By
Pauly Stonewall
Cast
Eddie Hustle, Poochman, Joey Zazaleno, Tanji Roberts, Joe Walker, Wanda Diaz, Tommy "Too Smoov"
About the Crew
Comedies really work on home video, Urban Comedies are hot.
Soundtrack produced by Grammy Award Winning "Eddie Hustle" (U Remind Me By Usher & Girltalk By TLC,)
Tommy "2 Smooth" Comedian/Actor, appearances include BET Comicview and Showtime at the Apollo.
Gallery
Gallery Images are Coming Soon.