Rent or Buy Now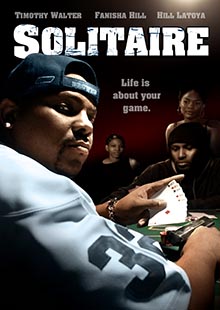 Solitaire
Own It May 10, 2005
Genre: Action
Runtime: 104 Minutes
UPC: DVD: MAV-5112, DVD: 824355511222
Storyline
Dejuan is suffering with pain in his heart over his relationship with his wife Aaliyah. Their troubled life is mentally and spiritually challenged after DeJuan commits an act of domestic violence against Aaliyah and all hell breaks loose. Afterwards DeJuan faces more questions, speculations and problems and needs to figure out that everything is about choices and how you play the game of life.
Directed By
Arthur Muhammad
Cast
Timothy Walter, Fanisha Hill, Sherilyn Hill, Latoya Muhammad and Aziz
About the Crew
Gritty urban film that deals with the realties of domestic violence
Gallery
Gallery Images are Coming Soon.