Rent or Buy Now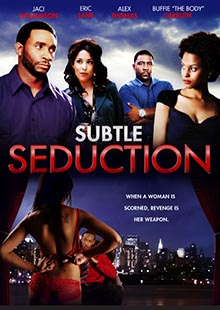 Subtle Seduction
Own It November 10, 2009
Genre: Thriller
Runtime: 87 Minutes
UPC: MAV-5333, 824355533323
Storyline
After Vanessa discovers her boyfriend has been unfaithful she vows to take control of the situation. Using his one weakness to her advantage she quiets him and moves on to her next victim. With each murder she becomes bolder and even a police investigation doesn't stop her. Will an undercover cop have what it takes to collect the evidence he needs before he becomes her next victim?
Directed By
Christopher Nolen
Cast
Buffie "The Body" Carruth, Alex Thomas, Eric Lane, Jaci Williamson, Simeon "Simbo" Henderson
About the Crew
Alex Thomas- Why Do Fools Fall in Love, The Players Club, 'The Jamie Foxx Show'.
Simeon Henderson- I Used to Love Her, Vacant, Comatose.
Eric Lane-Appeared in R.Kelly's hip-hopera 'Trapped in the Closet'. Starred in Barbershop, The Evil One, and Love Relations.
Tommy Phipps- Hostile Takedown.
Featuring video vixen Buffie 'The Body' Carruth.
Gallery
Gallery Images are Coming Soon.