Rent or Buy Now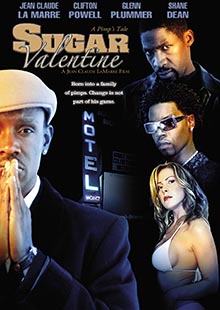 Sugar Valentine
Own It October 05, 2004
Genre: Drama
Runtime: 95 Minutes
UPC: DVD: MAV-5079, DVD: 824355507928
Storyline
One man must choose between his heart and his profession. Based on the true life story of Sugar Valentine, a man born into a family of Pimps finds that he is increasingly becoming disillusioned with the "game." And now he must face his biggest challenge of all: Falling in love.With added documentary testimonials from local prostitutes, Sugar Valentine the movie, will become an underground classic.
Directed By
Jean Claude LaMarre
Cast
Gabrielle Casseus, Clifton Powell, Glenn Plummer, Ingrid Sonray, Jean Claude LaMarre
About the Crew
Veteran actor Glenn Plummer, who makes a cameo appearance, can also be seen in this summers' hit, "The Day After Tomorrow" Poised to be THE BLOCKBUSTER HIT OF THE SUMMER!!.
The film is directed by Jean Claude La Marre, who also directed such the highly successful video title, Gang of Roses and Go For Broke
Gallery
Gallery Images are Coming Soon.