Rent or Buy Now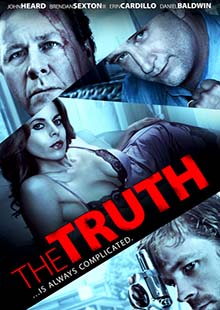 Truth, The
Own It August 24, 2010
Genre: Thriller
Runtime: 96 Minutes
UPC: MAV-5358, 8-24355-53582-2
Storyline
When a couple is taken hostage in their upscale home by a volatile intruder, a simple robbery turns into something much more complicated. As deeply guarded secrets are revealed and trusts are betrayed true motives become clear. This tortured night of lies and truths threatens to expose everything.
Directed By
Ryan Barton-Grimley
Cast
John Heard, Daniel Baldwin, Brendan Sexton III, Erin Cardillo
About the Crew
Daniel Baldwin - "Cold Case," Grey Gardens, "I'm a Celebrity... Get Me Out of Here!" "Homicide: Life on the Street," "Sydney"
John Heard-Nominated for an Emmy for his guest appearance on "The Sopranos." Starred in Home Alone, "Prison Break," The Guardian, "CSI: Miami," "The Sopranos," "The Client," The Pelican Brief, In the Line of Fire.
Brendan Sexton III - The Runaways, Black Hawk Down, Empire Records, The Marconi Bros.
Erin Cardillo - "Passions," "The Suite Life on Deck"
Erica Shaffer - "R.O.D the TV," A Family Affair
Carter MacIntyre- "American Heiress"
"The Truth was one of the best movies I've seen in a long time. I like the cleverness of it. This is a 5 out of 5 star film." Nick Kubic -Theatrum Mundi
Gallery
Gallery Images are Coming Soon.