Rent or Buy Now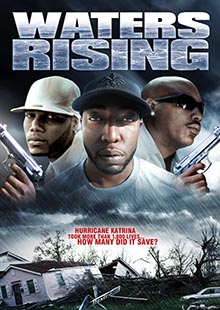 Waters Rising
Own It May 15, 2007
Genre: Action
Runtime: 93 Minutes
UPC: MAV-5241, 824355524123
Storyline
Filmed in the backdrop of the counrty's worst natural disaster, Hurricane Katrina, took more than 1800 lives.... but how many did it save? Two brothers from the Desire Projects in New Orleans just before the storm, not caring about anythng and leading a destructive life, and then just barely surviving Katrina, realizing how precious life really is. After serving time for auto theft committed by Killer, his younger brother, Gangsta vows to go straight for his first love, with the financial benefit of stashed drug money he found in the stolen drug dealer's car. However, after his release, Killer convinces Gangsta to back him, and his crew, up on one last job. The job involves Killers' gang rival JayDee. During the job, Gangsta kills JayDee's cousin, Chicago, and now JayDee wants revenge. Then Hurricane Katrina hits New Orleans... and a vicious act of nature changes EVERYTHING!
Directed By
Greg Carter and Shawn McEiveen
Cast
Michael "Agony A.D". Jackson, Marcus Comier, Jalene M. Mack, Karen Yelverton, Andrae Noel, Leo Lewis, Junie Hoang and introducing Malik Waldon, Antonio Albright and Cederica William
About the Crew
A portion of the proceeds from each sale of the film will go directly to a New Orleans Charitable organization to help rebuild homes damaged by Hurricane Katrina

Waters Rising is a compelling fictional story based on historical events that changed our nation and the lives of many American families.
Filmed by Rising Director, Greg Carter (American Dream, My Big Phat Hip Hop Family,)
'Waters Rising' won Best DocuDrama at the 2007 San Diego Black Film Festival; also premiered at the 10th annual UrbanWorld Film Festival in New York and Spindletop Film Festival in Beaumont, Texas in 2006
Gallery
Gallery Images are Coming Soon.