Rent or Buy Now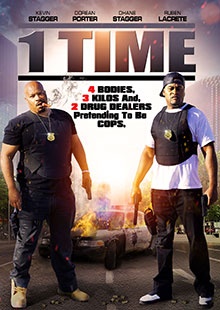 1 Time
Own It May 17, 2022
Genre: Action, Comedy
Runtime: 102 Minutes
UPC: MAV-5796, 824355579628
Storyline
Friends, Chino and Eddie, end up in a world of trouble when they mess with the wrong drug dealer.
Produced By
Kevin Stagger
Directed By
Kevin Stagger
Cast
Kevin Stagger, Dorean Porter, Ruben Lacrete, Dhane Stagger
About the Crew
Kevin Stagger is a director, writer, and actor known for Baby's Momma Drama (2004) and 1 Time (2022).
Ruben Lacrete is an actor known for A Broken Code (2012), Love or Laughs (2019), and American Gangster: Trap Queens (2021).