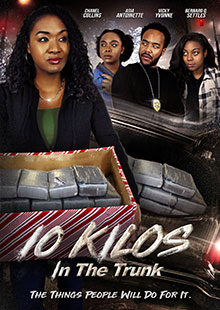 10 Kilos in the Trunk
Own It November 28, 2023
Genre: Crime, Drama
Runtime: 75 Minutes
UPC: MAV-6018, 824355601824
Storyline
Tonya needs to make some quick cash for the holidays, and takes a job transporting cocaine. On the way to the drop-off, her car breaks down in the middle of nowhere. While walking to a gas station for help, she is stopped by a police officer, and arrested for several warrants. Now in jail, Tonya, gets her friend Monica to make the delivery. Monica must get the car fixed, avoid a thief looking to steal the product, and make the delivery by the deadline or both will face deadly consequences.
Cast
Chanel Collins, Asia Antoinette, Vicky Yvonne, Bernard Q. Settles
About the Crew
Jeff Profitt is an actor, director, and producer known for Queen of the Trap House (2021), Deceitful Tendencies (2022), and Getting to the Plug (2023).
Chanel Collins is an actress known for 5D (2021), Violet Bloom (2022), Choopa City Queens (2023), and Killer Baby Mama (2023).