Rent or Buy Now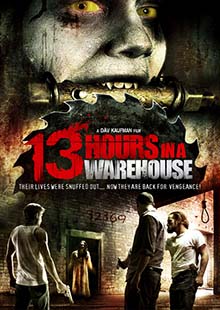 13 Hours in a Warehouse
Own It October 28, 2008
Genre: Horror
Runtime: 92 Minutes
UPC: MAV-5297, 824355529722
Storyline
After five guys pull off the perfect heist, they end up in an abandoned warehouse waiting for their buyer to show up. But, it isn't the 13 hour wait that is upsetting; it's the strange numbers that keep appearing everywhere and the feeling like they are being watched. When they finally figure out that they are not alone, it's too late to get out alive.
Cast
Carson Lee, Chars Bonin, Danny Salmen, Cody Lyman, Paul Cram, Meisha Johnson
About the Crew
Won a Gold REMI award at World Fest
Won Best Horror Film at the Indie Spirit Film Festival
Won Best Traditional Horror Film at Crypticon Seattle
Official selection at the Nevermore Horror Film Festival
Directed by critically acclaimed novelist Dāv Kaufman; writer of Lake Desire
Paul Cram- Holiday Beach, Contract Killers
Meisha Johnson- Cold Feet, Fall Into Me
'The thrill of not knowing exactly what is happening, but knowing when you do figure it out, it's going to be disturbing'. (J.P. Butcher, The Flesh Farm.com)
'13 Hours in a Warehouse is one of the most original supernatural horror films I've seen in a while from both the independent and major studios systems'. (Anthony Thurber, Film Arcade.net)
Crist Ballas (head make-up artist on 13 Hours in a Warehouse)- was a makeup artist on: The 6th Day, End of Days, Batman and Robin and Jingle All the Way
Promoted on Maverick's corporate Facebook and Myspace pages
Gallery
Gallery Images are Coming Soon.