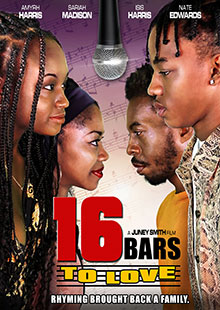 16 Bars to Love
Own It August 23, 2022
Genre: Drama, Romance
Runtime: 97 Minutes
UPC: MAV-5826, 824355582628
Storyline
Niles and Mina are rappers who are pursuing a chance to audition for the hottest young producer in New York, Magic the Music Maker. They share a secret with each other that came from mysterious circumstances and as they experience beginning success as rappers, they must learn the truth of the secret about their family.
Produced By
Juney Smith, Isis Harris
Cast
Amyrh Harris, Sariah Madison, Isis Harris, Nate Edwards
About the Crew
Juney Smith is an actor and director known for Good Morning, Vietnam (1987), Lethal Weapon 2 (1989), Blue Bloods (2012), and You Look Familiar: Vernee Watson (2021).
Amyrh Harris is an actor known for Annie (2014), Sunset Park (2017), and Wu-Tang: An American Saga (2019-2021).
Isis Harris is an actress and producer known for Broken Rhyme (2006), Lincoln Heights (2008), Wasteland (2011), and Grown & Sexy (2019).