Rent or Buy Now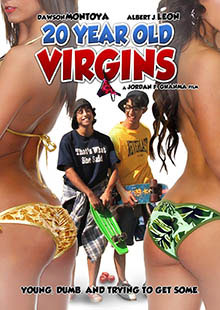 20 Year Old Virgins
Own It February 21, 2017
Genre: Comedy
Runtime: 97 Minutes
UPC: MAV-5522, 824355552225
Storyline
A coming-of-age story about two dim witted 20-year-old roommates, Gene & Eugene, and their quest to lose their virginity. Their new plans hit a few snags when they must deal with their bullying neighbor Rock and Gene's condescending brother Mike, who moves in uninvited after breaking up with his girlfriend. Will their persistence pay off or lead them back to the drawing board? A light-hearted, raunchy comedy movie.
Produced By
Jordan F. Ghanma
Directed By
Jordan F. Ghanma
Cast
Dawson Montoya, Albert J. Leon, Marcus D. Spencer
About the Crew
Heather Gilliland was born as Heather Anne Gilliland. She is an actress and writer, known for Redneck Roots (2011), Curvature (2010) and Undone (2013).
Larry Kitagawa is an actor and producer, known for Red Dress (2013), Want Ads (2012) and Inspector Hieronymus (2009).
Gallery