Rent or Buy Now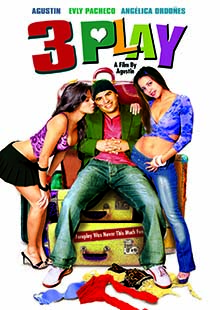 3-Play
Own It October 26, 2004
Genre: Comedy
Runtime: 88 Minutes
UPC: MAV-5083, 824355508321
Storyline
3-Play adds a new unilateral twist to the classic love triangle scenario. This romantic comedy explores the true-life story of three young, independent, smart, sexy and otherwise normal people when they make the choice to forego accepted social norms. Scrutiny and criticism from friends and family force them to constantly to answer the question, 'Is this normal?' Told in a series of testimonials and flashbacks, this mockumentary-styled film is a delightful, provocative and intelligent examination of how we order and disorder our love relationships.
Cast
AGUSTIN, Evly Pacheco, Angelica Ordo?±es
About the Crew
3-Play will be the first film distributed under the Fusion label, symbolizing the 'fused' creation of a very hip, modern, street speak unique to generations of Latinos who have learned to speak 'Spanglish'. Fusion titles will specifically target an English speaking audience, with mainstream Latino themes and actors.