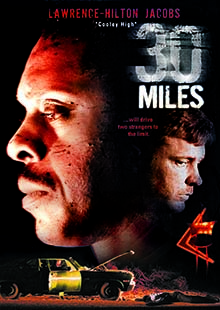 30 Miles
Own It July 05, 2005
Genre: Thriller
Runtime: 81 Minutes
UPC: MAV-5140, 824355514025
Storyline
A white man stranded on the side of the road. A black man speeding by in an SUV... An act of kindness with fatal repercussions... A mysterious backpack... And a twist that will leave you staggering. Two strangers, harboring dark secrets and deceitful motives, learn how much can change in just thirty miles. 30 Miles follows two men of different race and background on a pressure-cooker trip. Ernie, a down-on-his-luck drifter, and Anthony (Lawrence-Hilton Jacobs, 'Welcome Back, Kotter') a successful Hollywood agent, find their fates intertwined after a chance meeting. As the men reveal intimate details of their pasts, guards are let down and emotions are left unchecked. But as day turns to night, and in the desert that buries all secrets, it becomes apparent that this is no random journey down the highway.
Cast
Lawrence-Hilton Jacobs, Rusty Gray, Ken Arquelio, Max the Dog
About the Crew
Directed by Ryan Harper, 30 Miles stars Lawrence-Hilton Jacobs, best known for his role as Freddie 'Boom Boom' Washington on 'Welcome Back, Kotter', and his breakthrough performance in the Urban hit Cooley High. Received rave reviews for his important roles in 'Roots' and his portrayal of Joseph Jackson in the TV-movie 'The Jacksons: An American Dream.'.
'. . . a tense drama, dependent on the strong performances of two of the main actors, and Jacobs and Gray deliver, revealing the rawness of two men brought into battle by their shadowy pasts'. -- The Los Angeles Times.
Shot in 8 days, 30 Miles is the first 24p HD feature to be shot with the P+S Technik Pro-35mm adapter, achieving the depth of field of 35mm film. Produced by Ryan Harper, Rusty Gray, Cliff Gober and Josh R. Jaggers who also worked on The Usual Suspects and The Matrix Revolutions has received accolades being shown at the Cinequest Film Festival in San Jose, The Hollywood Black Film Festival (Runner-up for Best Feature Film), the H-D Fest in Hollywood and the American Black Film Festival in South Beach, Fla.