Rent or Buy Now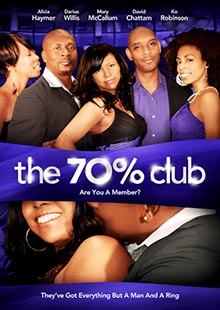 The 70% Club
Own It June 22, 2010
Genre: Drama
Runtime: 98 Minutes
UPC: MAV-5349, 824355534924
Storyline
Oprah Winfrey, The New York Times, and ABC Nightline have all reported that 70% of black women are single. But this group of friends never thought they would be part of the statistic. As they prepare one friend for 'I Do' and another for divorce; secrets, lies, and betrayal threaten to derail the wedding. As they each struggle to hold on to their relationships the women can't help but wonder if it's even possible to find lasting love, especially for a black woman? The 70% Club offers a fresh and contemporary look at the issues faced in relationships, dating, and marriage.
Directed By
Howard L. Bell IV
Cast
Darius Willis, Mary McCallum, Ko Robinson, Shawn Whitsell, Alicia Haymer Ridley
About the Crew
Won Best Feature Film at the International Black Film Festival of Nashville.
Culturally relevant film.
As seen on Oprah.
As seen on NY Times.
As seen on Ebony.
As seen on MSNBC.
As seen on ABC News.