Rent or Buy Now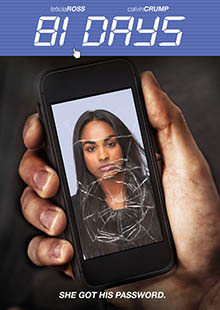 81 Days
Own It May 23, 2017
Genre: Thriller
Runtime: 75 Minutes
UPC: MAV-5530, 824355553024
Storyline
In a widely used internet world, often times friends, family and even married couples, have major infidelity suspicions because of the suspected cheaters use of it. Tish has had it with her husband Andrew and his Facebook surfing. He lies all the time about his so-called FEMALE FRIENDS that are on Facebook, so, Tish retaliates in the Godliest way one could ever image. 81 DAYS is based on true life social media cheating events that sadly happens to many of us, each and every day.
Directed By
Jason Rawlings
Cast
Leticia Ross, Calvin Crump, Tarus Dukes Jr., Cooper Davenport
About the Crew
Leticia Ross is a writer, producer, and published author of the book 'The Cellular Effect'.
Jessica McClain is an actress, known for The Incredible Burt Wonderstone (2013), Punch Line (2010) and iCarly: iGo to Japan (2008).
81 days is inspired behind a failed marriage because of social media between Leticia and her now deceased husband.
Gallery