Rent or Buy Now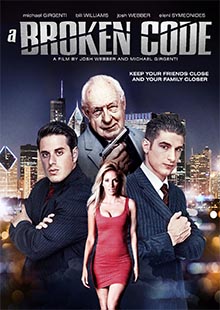 A Broken Code
Own It September 17, 2013
Genre: Thriller
Runtime: 90 Minutes
UPC: MAV-5419, 824355541922
Storyline
Two brothers, Carmelo and Gino, are raised by their infamous mob boss grandfather Salvatore Gianni in an Italian suburb. Their childhood is marked by glimpses of violence hidden behind the family's Chicago pizza front. Although their mother was around their fathers were not. Gino always stood close to his family values while Carmelo strayed away getting involved in street crimes and drug use. When the boys are older, Salvatore is murdered. The two travel to Los Angeles to track down the killer. How will the truth unfold?
Directed By
Josh Webber & Michael Girgenti
Cast
Michael Girgenti, Josh Webber, Bill T. Williams, Eleni Symeonides, Joey Napoli, Zach Silverman, Douglas Bierman, Ralph Michel, Jay Giannone
About the Crew
Official selection Boston International Film Festival.
Award winner Excellence in Filmmaking Canada International Film Festival.
Gallery