Rent or Buy Now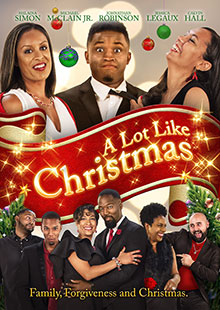 A Lot Like Christmas
Own It November 05, 2019
Genre: Urban Romantic Comedy
Runtime: 90 Minutes
UPC: 824355562729, MAV-5627
Storyline
After not seeing his family for over seven years, P.J. gets talked into going home for Christmas by his co-workers. Excited to see PJ, the entire family comes home for the Christmas season; his family is loaded with personality and has a flair for the dramatic. He reconnects with his high school sweetheart, Rebecca, and after having a fight with his father, is reminded of the importance of love and forgiveness. Only then does his perspective change and he embraces second chances at life.
Produced By
Owen McManus & Tammy McManus
Directed By
Kenneth Desvigne Jr.
Cast
Jonathan Robinson, Calvin Hall, Helaina Simon, Jessica Legaux, Lauren Bachtel
About the Crew
Romantic comedy about family, forgiveness and, of course . . . Christmas
A young man's journey of forgiveness and second chances at family and at love
Independent film shot entirely in New Orleans with all local cast and crew
Cameo by New Orleans Saints defensive end Cam Jordan
November 2018 red carpet premiere attended by several VIPs, including Louisiana Lieutenant Governor Billy Nungesser and New Orleans Councilmember Cyndi Nguyen . . . among others
Gallery