Rent or Buy Now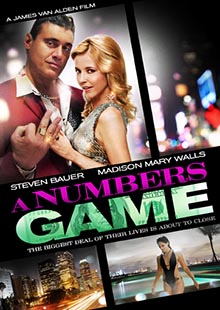 A Numbers Game
Own It April 06, 2010
Genre: Drama
Runtime: 75 Minutes
UPC: MAV-5340, 824355534023
Storyline
Neal is a good looking, smooth talking, killer deal closer, who can sell anything to anyone at any time. For Neal, sales is just a numbers game; you can't sell to everyone, but you make enough calls in one day and you will make money. For Catherine, sales is nothing but stress and hard work. As the manager of a failing sales team Catherine's job is on the line, and her boss has called in Neal to turn things around. Will Neal's methods help Catherine's sales team, or will his smooth talking get them both into trouble?
Directed By
James Van Alden
Cast
Madison Walls, Steven Bauer, Ken Howard, Hanna Hall
About the Crew
Steven Bauer-Nominated for a Golden Globe for his role in 'Drug Wars: The Camarena Story'. Nominated for a Golden Globe for his role in Scarface. Won a Screen Actors Guild Award along with his co-stars for their performance in Traffic. Starred in From Mexico with Love, The Intruders, Scarface, Traffic.
Ken Howard- Won an Emmy Award for his role in Grey Gardens. Starred in 2:13, 2008 Rambo, Michael Clayton, 'Cane', 'Crossing Jordan.'.
Hanna Hall- Nominated for a Young Artist Award for her role in Homecoming. Won a Young Artist Award for her role in Forrest Gump. Starred in The Virgin Suicides, Rob Zombie's Halloween, Text, Forrest Gump.
Sy Richardson - 'Pushing Daisies', Sister's Keeper, South of Heaven.
Sara Fletcher - 'Secret Girlfriend'.
Evelyn Edwards - 'Mad Men'.
Craig Robert Young - 'Dream Team', 'Spyder Games'.