Rent or Buy Now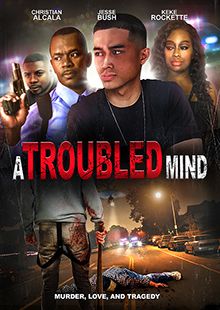 A Troubled Mind
Own It December 15, 2015
Genre: Thriller
Runtime: 121 Minutes
UPC: MAV-5503, 824355550320
Storyline
Tragic times occur in young Richard's life when he witnesses a murder committed by his father. The good times he's known change dramatically as family matters escalate. An awakening follows him as he matures and changes for the best - or for the worst?
Produced By
Robert L Parker III
Directed By
Robert L Parker III
Cast
Christian Alcala, Jesse Bush, Keke Rockette
About the Crew
Actress Donna Chamness, known for numerous TV series such as, Dark Corners (2015), Devil's Creek (2014-15), The Fall of Ravenswood (2014), and many more.
Michelle Harleston is an actress, known for Fruitcake (2014), The Accidental President (2014) and The Hunger Games: Mockingjay - Part 1 (2014).
Brad Beall known for Who's Your Bully (2014), The Message (2014) and Got Burger? (2015).
Gallery