Rent or Buy Now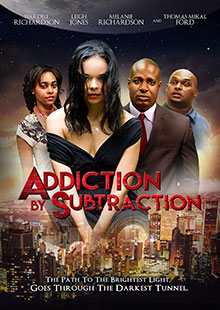 Addiction by Subtraction
Own It December 03, 2019
Genre: Thriller
Runtime: 90 Minutes
UPC: MAV-5613, 824355561326
Storyline
While trying to cure the emotion of rage, Jacob James stumbles onto a drug that releases all his inhibitions and takes him down a self-destructive path. Though quiet and reserved by day, scientist and professor, Jacob James explores the darker nature of humanity. He discovers a way to unlock his own dark side by creating a key, a chemical akin to ecstasy. Will Jacob find a way to cope with his destructive desires and live a happy life? Will he find peace, or will he become addicted to the subtraction of his soul?
Produced By
Greg Galloway and Mason Younge
Directed By
Greg Galloway
Cast
Thomas Mikal Ford, Cameron H. Miller, Tihirah Taliaferro, Melanie Richardson, Leigh Jones
About the Crew
Greg Galloway is a director and producer known for The Anatomy of Love (2010), Music & Murder (2018), and The Substitute Spy (2019).
Thomas Mikal Ford is an actor and producer known for Harlem Nights (1989), was a series regular on Martin (1992-97), First Impression (2014), and Conflict of Interest (2017).
Cameron H. Miller is known for his work on Crazy Intent, The Promise (2012) and Skinned (2015).
Gallery