Rent or Buy Now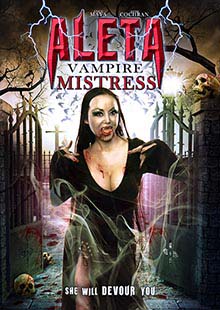 Aleta: Vampire Mistress
Own It September 15, 2015
Genre: Horror
Runtime: 90 Minutes
UPC: MAV-5488, 824355548822
Storyline
When the Defense Secretary hears of a woman effortlessly killing two robbers despite multiple gunshot wounds, he dispatches an FBI Agent to track the killer down in hopes of enlisting her as a potential super-agent. The agent's quest turns perilous when he discovers he is tracking a vampire, but not just any vampire - the carnal and carnivorous Vampire Mistress. Empress Vampire is an erotically charged, lethal journey into darkness - the darkness of human greed, the darkness of ancient evil and the darkness of the perversion of Vampire Mistress.
Produced By
Phil Condit, Ange Maya
Cast
Ange Maya, Tom Cochran, Beau Nelson, Laura Cotenescu, and Garrett Brawith
About the Crew
Ange Maya as the Vampire Mistress stood out and can only be described as effectively disturbing. She brought out a realistic, cold and calculating character, while also an alluring sexual element making her truly something to fear.
Ange Maya - known for her work in China Spy.
Reviews galore on several Horror sites, such as Horror Unlimited, Horror-Movies.ca, Robert Hood and more.
Tom Cochran is an actor, known for Escape! From Robot Island (2008) and Eli (2007).
Garrett Brawith known for The Unauthorized Full House Story (2015), Jurassic City (2014), Poseidon Rex, (2013).
Gallery