Rent or Buy Now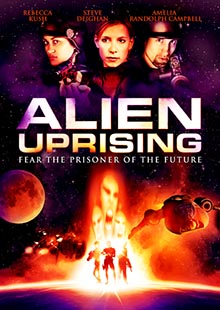 Alien Uprising
Own It August 04, 2009
Genre: Sci-Fi, Thriller
Runtime: 84 Minutes
UPC: MAV-5322, 824355532227
Storyline
A suspected prisoner uprising brings Marines to the prison planet of Rove 12, but nothing is what it seems. The few surviving prisoners are hiding from a ruthless, blood thirsty creature. Now the prisoners and the marines must fight together to get off the planet - ALIVE!
Directed By
Andrew Bellware
Cast
Rebecca Kush, Steve Deighan, Amelia Randolph Campbell
About the Crew
Steve Deighan - Millennium Crisis, The Great Pretenders
Tana Sarntinoranont- Blush, Lovesick
Catherine Zambri - The Marconi Bros., Mulberry Street, 212
'An alien world with a prison, hot babes in cool armor, guns in enclosed spaces, a drooling alien... How can you resist the pull of Alien Uprising?' - Annalee Newitz(io9.com)
Gallery
Gallery Images are Coming Soon.