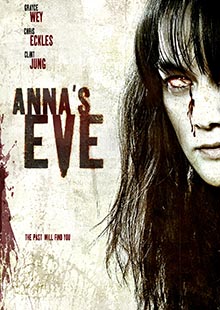 Anna's Eve
Own It February 20, 2007
Genre: Horror
Runtime: 90 Minutes
UPC: MAV-5199, 824355519921
Storyline
Anna, a kindhearted social worker, suffers a mental breakdown after discovering the gruesome murder of a child under her supervision. Still fragile, Anna struggles to move on with her life even as the child's ghost haunts her. She reluctantly seeks advice from a psychic, but the evil that torments Anna shocks the psychic into a coma. When bizarre accidents continue to take the lives of those around her, Anna is forced to confront her terror alone.
Cast
Grayce Wey, Chris Eckles, Clint Jung, Mae Hi, Angela Landis, Cevin Middleton
About the Crew
In the tradition of 'The Grudge' comes Anna's Eve. A very creepy, chilling tale that will make you believe in ghosts.....
A Scary, edge of your seat THRILLER!
Official Selection - ScreamFest 2004
Gallery
Gallery Images are Coming Soon.