Rent or Buy Now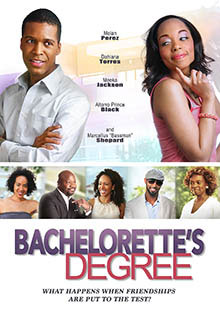 Bachelorette's Degree
Own It June 07, 2016
Genre: Comedy
Runtime: 96 Minutes
UPC: MAV-5515, 824355551525
Storyline
Bachelorette's Degree' is a steamy romantic comedy set in Washington, D.C., and explores the dynamics of love and friendship, tested by unexpected circumstances. The film stars three beautiful, successful women as they debunk the notion of women racing for the marriage altar. Instead, it tells the other side of the story. Dennie is a publicist for a national television personality. Jasmine has just finished law school and Kerra Carter is a seasoned middle school teacher. Join them on their hilarious, heart-touching journey.
Produced By
Vonnetta Cornish
Directed By
Altorro Prince Black
Cast
Melan Perez, Dahiana Torres, Meeka Jackson, Altorro Prince Black, Marcellus "Bassman" Shepard
About the Crew
Actor Marcellus Bassman Shepard is known for Hip-Hop Task Force (2005), and Lorenzo & Monica (2012).
Altorro Prince Black is an actor and director, known for Geographically Desirable, (2015) Southern Fried Homicide (TV Series doc 2014) Table for Three (2012), The Man in the Cave and Second World: Blood, Fire and Smoke (2010).
Gallery