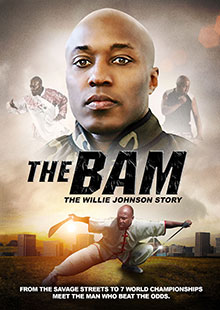 The BAM: The Willie Johnson Story
Own It August 17, 2021
Genre: Documentary
Runtime: 85 Minutes
UPC: 824355570625, MAV-5706
Storyline
The gripping story of how martial arts transformed a criminal into a 7-time World Champion, a community leader and a real man. Willie Johnson tells his story through his own words, from the highs to the lows, and how he has triumphed over it all.
Produced By
Robert Parham & Willie Johnson
Directed By
Robert Parham
Cast
Willie "The Bam" Johnson
About the Crew
Willie "The Bam" Johnson is a master Wu Shu practitioner and UMAC World Champion. Willie holds a 7th degree black belt in Karate / Kang Du Kwon, a 5th degree black belt in Shaolin Wu Shu Kung Fu and a 1st degree black belt in Karate / Death Ke Do. Willie has now over 3 decades of experience. Some impressive stats are: 7-time U.M.A.C. World Champion, 2-time All American Champion, The first nationally ranked Triple Crown martial arts champion, Black Belt Hall of Fame, Kung Fu Instructor of the Year 2000, Martial arts Hall of Fame in 1997 and many more. Willie is also an award-winning martial arts teacher, motivational speaker, and author.