Rent or Buy Now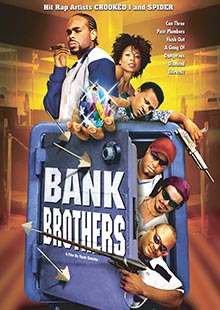 Bank Brothers
Own It April 06, 2004
Genre: Comedy
Runtime: 99 Minutes
UPC: MAV-5063, 824355506327
Storyline
The mob has a plan. Recruit three renowned bank robbers from different parts of the world and put them into action robbing banks posing as black men. Deposit an insured diamond worth millions into a banks vault. Steal it back. Collect the insurance. And, sell it in pieces all over the world, tripling their money. But when three down and out plumbers from the hood decide that robbing the same bank would make them Ballers, the mob's plan falls apart. They make their first heist at the same time that the mob is depositing the diamond. Now the mob wants their diamond back and they will stop at nothing to get it.
Directed By
A Film by Ken Guertin
Cast
Crooked I, Spyder, Ryan Combs, Tony Cox Andres Salcedo, and Tony Pacheco
About the Crew
Bank Brothers is an urban comedy starring Death Row recording artists Crooked I and Spyder.