Rent or Buy Now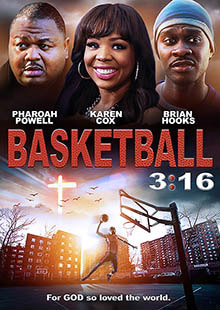 Basketball 3:16
Own It October 18, 2016
Genre: Urban Inspirational
Runtime: 75 Minutes
UPC: 824355550221, MAV-5502
Storyline
Sometimes there comes a point in your life where you need to grow up, but only you know when that time comes. That time always comes in one shot and sometimes it's your last shot. The Lord can be found in many places; a Church, a book or even a basketball court. Growing up is not about an age, it turns out it's about a mindset. When you're a child, you speak as a child, think as a child and reason as a child... when you become a man you put away childish things. The question of the day is... "How many shots does a man need to get it right, or does he ever get it right?"
Produced By
Tony White, Ramasses Head, Pharoah Powell
Directed By
Ramasses Head
Cast
Pharoah Powell, Brian Hooks, Karen Cox, Marcus D. Spencer, Jonez Cain
About the Crew
Jonez Cain is an actress known for The Shop (2014), Watch Phoenix Rise (2014), and Straight Outta Oakland (2014).
Brian Hooks is an actor and producer, known for Austin Powers: The Spy Who Shagged Me (1999), Eve (2003) and Fool's Gold (2008)
Ramasses Head is a producer known for Hunting Season(2016), Watch Phoenix Rise(2014), Secrets of Deception(2016), and Bella's Story(2016).
Gallery