Rent or Buy Now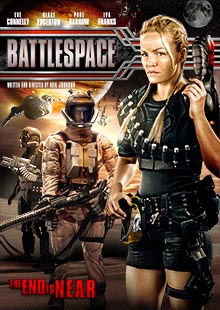 Battlespace
Own It July 03, 2007
Genre: Sci-Fi
Runtime: 83 Minutes
UPC: MAV-5222, 824355522228
Storyline
Battlespace' is a futuristic sci-fi adventure that begins after the destruction of our Universe. With a militaristic race of modified humans in hot pursuit, Colonel Mara Shryyke finds herself stranded on an inhospitable planet, and discovers a weapon of mass destruction set to destroy her home planet in less than 42 hours.
Cast
Eve Connelly, Blake Edgerton, Iva Franks, Paul Darrow
About the Crew
As A Futuristic Warrior This Super-Human Woman Battles Her Way Through A Dangerous New World To Save Mankind
Gallery
Gallery Images are Coming Soon.