Rent or Buy Now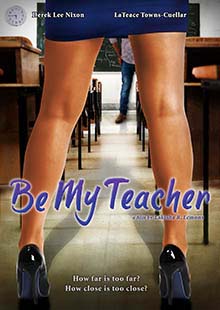 Be My Teacher
Own It March 15, 2011
Genre: Drama
Runtime: 86 Minutes
UPC: MAV-5373, 824355537321
Storyline
Evan, a mature high school senior, falls in love with his English teacher, Mrs. Alecia Willis. What begins as a harmless student-teacher relationship soon becomes much more, as Evan is very persistent in his attempts to woo his instructor. The two willfully plunge into a passionate romance that goes against every notion of right and wrong. As vulnerability takes control, they push the limits on how far is too far and how close is too close.
Directed By
Lakisha R. Lemons
Cast
Derek Lee Nixon, LaTeace Towns-Cuellar
About the Crew
Edrick Browne - Righteous Kill, Nine Dead, Beauty & the Briefcase, House of Bones, Enemies Among Us.
LaTeace Towns-Cuellar - At Any Cost, Kings of the Evening.
Derek Lee Nixon - When in Rome, The Jerk Theory.