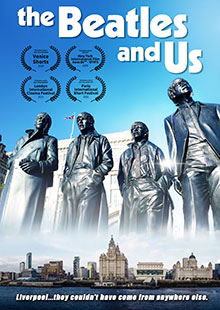 The Beatles and Us
Own It July 06, 2021
Genre: Documentary
Runtime: 25 Minutes
UPC: MAV-5778, 824355577822
Storyline
A quirky and affectionate portrait of Liverpool and the Beatles, exploring their evolving relationship and mutual impact
Produced By
Chris Purcell
Directed By
Chris Purcell
Cast
Roger McGough, Paul Du Noyer, Helen Anderson
About the Crew
The Beatles and Us has been selected for many film festivals including, Amsterdam World International Film Festival, Crystal Palace International Film Festival, was a finalist in the New York International Film Awards NYIFA, and was selected as the best international documentary at the Venice Shorts.
Chris Purcell is a seasoned award-winning filmmaker with a 30-year track record in directing broadcast documentaries, short films and factual content. Specializing in music & arts plus science & technology documentaries, Chris has made many films that feature big name talent, conducting interviews with the likes of Buzz Aldrin, Sir David Frost, Richard Branson, Ginger Baker and Roger McGough among many others. He also occasionally shoots for other directors who value his composition and lighting skills. Recent credits include the RTS winning The Art of Drumming for Sky Arts, Ode to Concorde and Armstrong - First Man on the Moon for the BBC.
Tom McConnell is a musician who did the score for The Beatles and Us. Novelty Island (along with Tom's previous projects, TV ME and Tom Low) pairs his love of classic power pop and woozy-electronica with his surreal videos and artwork. He was also involved with co-curating the music for the George Harrison: Within You Without You show at the Liverpool Philharmonic as part of 2017's Sgt. Pepper 50th anniversary celebrations. His first soundtrack is an immersive mellotron soundscape and features on The Beatles & Us. It will be released on the "Mellotronia" album, along with the film.