Rent or Buy Now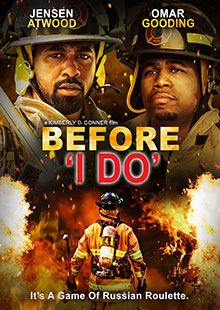 Before 'I Do'
Own It March 06, 2018
Genre: Action, Drama
Runtime: 62 Minutes
UPC: MAV-5546, 824355554625
Storyline
A game of Russian roulette. There are scandalous secrets and a cover up, and three people, bound to take them to the grave. Before 'I Do' draws you into the realm of passion and love, lust, lies, and friendship. A fast-paced, colorful, action drama with a splash of comedy and a myriad of surprises.
Produced By
Kimberly D. Conner & Brandon Keating, Sr.
Directed By
Kimberly D. Conner
Cast
Jensen Atwood, Omar Gooding, Andrea Kelly, Thea Camara, Harold Dennis
About the Crew
Kimberly D. Conner is the writer, director, and producer of the film. Before 'I Do' placed as a semi-finalist in Creative Screenwriting Magazine's AAA Screenplay competition, of more than 1,500 entries, it placed in the top 10.
Jensen Atwood is an actor who played love interest to Oscar Winner Halle Berry in Oprah Winfrey's Their Eyes Were Watching God, while working alongside the legendary and Academy Award nominated Ruby Dee, as the unforgettable Johnny Taylor. Atwood also appeared in the television show 'Noah's Arc', along with several music videos, including Destiny's Child, 'Soldier' video.
Omar Gooding is an actor who has appeared in the films 'Baby Boy', 'The Gospel', 'Percentage' the TV show, 'Smart Guy', and is currently on Bounce TV's, 'Family Time'.
Andrea Kelly from VH1's 'Hollywood Exes' and 'Chocolate City'.
Gallery