Rent or Buy Now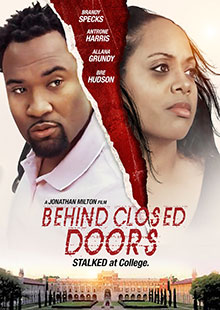 Behind Closed Doors
Own It May 05, 2020
Genre: Thriller
Runtime: 86 Minutes
UPC: MAV-5645, 824355564525
Storyline
Stacy is a freshman at a Historic Black College & University. She Meets and falls in love with a Grad Student named Benjamin. He's nice and charming at first. Until he starts to control her and physically, psychologically, and verbally abuse her. Can Stacy get out of this domestic violence relationship before it's too late?
Produced By
Justin Milton, Johnnard Harper, Brandi Brown, Tiffany Joseph, Allana Grundy
Directed By
Jonathan Milton
Cast
Brandy Specks, Antrone Harris, Allana Grundy, Bre Hudson
About the Crew
Jonathan Milton is a director and producer known for The Foreign Exchange Student (2017), Do's and Don'ts of Dating (2018), Captured (2019) and The Perfect Wife (2019).
Brandy Specks is an actress, known for Don't Shoot (2017), Pipe Dreams (2018), The Perfect Wife (2019), and O'Shea (2020).
Antrone Harris is an actor and producer, known for Overdose (2013), The Naggin Wife: An Adventure of Extreme Flatulence (2015), Harvey (2018), and The Cry Nobody Heard (2019).
Gallery