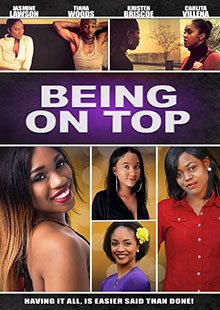 Being On Top
Own It October 13, 2020
Genre: Drama
Runtime: 108 Minutes
UPC: MAV-5664, 824355566420
Storyline
Four women; Sophia Simmons, Dylan Carter, Portia Fitzgerald and Bridgette Barlow who at the height of their careers are leaders in their industry, discover that having it all is easier said than done. Faced with the challenge of wanting both a professional and a personal life, they realize that life at the top can at times be isolated, and require sacrificing the authority and control they've earned professionally.
Produced By
Michael W. McCorkle
Directed By
Michael W. McCorkle and Eli El
Cast
Jasmine Lawson, Tiana Woods, Kristen Briscoe, Carlita Villena
About the Crew
Michael McCorkle has over a decade of success writing, producing and directing. His original theatre productions, with dramatic gospel flavor have been receiving praise from audiences across America. His productions include "Like Father, Like Son", "A Change Is Coming", "Home Is Where The Heart Is", and "All The Man I Need"
Kristen Briscoe is an actress, known for Criminals at Work (2016), For My Man (2015) and Portrait (2015).
Passion Roosevelt is an actress and director, known for Can We Talk (2018), Love and Reality (2017) and Cake: The Series (2020).