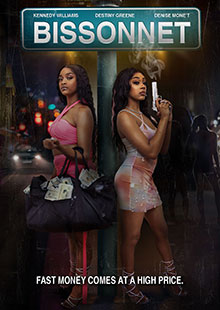 Bissonnet
Own It September 19, 2023
Genre: Thriller
Runtime: 131 Minutes
UPC: MAV-6036, 824355603620
Storyline
When Drea gets kicked out of school, she turns to the streets to make some money. What she does not know is that fast money and life on the streets of Bissonnet come at a high price.
Produced By
Jonathan Milton
Directed By
Conrad Craven
Cast
Kennedy Williams, Destiny Greene, Denise Mone't
About the Crew
Jonathan Milton is a director and producer known for The Foreign Exchange Student (2018), The Perfect Wife (2019), Behind Closed Doors (2020) and Unfinished Business (2023).
Denise Mone't is a writer, director, producer and actress. She has directed 5 independent feature films including Hidden Agenda, Behind Closed Doors 2, The Ring Widow, My New BFF, and Dirty Thirty and has acted in Unfinished Business, The Killing Secret, The Perfect Wife 2, and many more.