Rent or Buy Now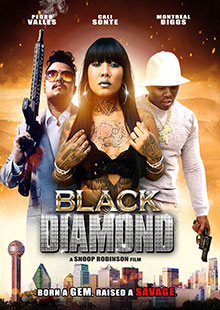 Black Diamond
Own It February 18, 2020
Genre: Thriller
Runtime: 114 Minutes
UPC: MAV-5628, 824355562828
Storyline
Life is all about Give and Take. At some point, we all have to choose a side. The sad thing is it maybe Friends over Family. Black Diamond is a film about a Diamond that was born a Gem but raised a Savage.
Produced By
Demarcus Bailey, Doug Schwab
Directed By
Snoop Robinson
Cast
Cali Sonte, Montreal Diggs, Jennifer Sands, Pedro Valles
About the Crew
Vernon Snoop Robinson is a director, producer, and actor known for She's Not Our Sister (2011), Deceptions of Love (2013), and Her Eyez (2014) and Stolen Virginity (2018).
Montreal Diggs is an actor, known for Tazmanian Devil, Black Diamond (2020) and Vindication (2019).
DeMarcus Bailey is a writer and director, known for Love & Drugs (2019), Black Diamond (2020), and with the success of Love & Drugs he will be directing Love & Drugs 2 in 2020.
Gallery