Rent or Buy Now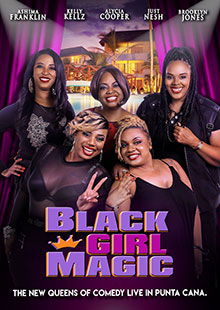 Black Girl Magic
Own It October 25, 2022
Genre: Comedy
Runtime: 70 Minutes
UPC: MAV-5868, 824355586824
Storyline
Fall under the spell of these five hilariously talented black women from all walks of life, and all parts of the U.S., in this side splitting stand-up special. Starring NY's Brooklyn Jones, LA's Alycia Cooper, Chicago's Just Nesh, Milwaukee's Kelly Kellz and hosted by Atlanta's Ashima Franklin. Filmed on location live from Punta Cana, Dominican Republic.
Produced By
Julia Carias Linares, Erica Barrabi, Kiki Melendez
Directed By
Kiki Melendez|Ramon Herrera
Cast
Alycia Cooper, Brooklyn Jones, Just Nesh, Kelly Kelz, Ashima Franklin
About the Crew
Alycia Cooper is a comedian, actress, singer, dancer, and DGA Emmy nominated Director. Alycia now had momentum and it was leading her full speed ahead to Hollywood. This comedy chameleon was quickly cast in popular shows, including "The Parkers", "Raising Hope", and "Grounded for Life". She also performed her comedy on the national stages of NBC's "Last Comic Standing", "America's Got Talent", "Stand Up In Stilettos" BET's "Comic View", "Byron Allen's Comics Unleashed", Hulu's Coming to the Stage," and Nuvo TV's "Stand Up & Deliver".
Brooklyn Jones is an actress and comedian who initially started out as a rapper. She has performed at the legendary Comedy Store for Red Grant's Turnt Up Tuesdays, was named one of California's Funniest Female Comedians at Ice House Comedy Club and was named "Best of The Fest" at Flappers' Burbank Comedy Festival. In 2016 Brooklyn became a recurring guest star for two seasons on the Oprah Winfrey Network's "Flex & Shanice" show. You can also catch her stand up on season 2 of UMC's ""The Comedy Underground Series and making guest appearances on TruTV's Laff Mobb's Laff Tracks.
Kelly Kellz is a comedian born and raised in Milwaukee. She now resides in New York City where she has shared the stage with more amazing and legendary comedians such as Dick Gregory at Caroline's on Broadway. Her dreams and aspirations of becoming a full time Entertainer and Entrepreneur and running a successful Entertainment Company is coming to life.
Ashima Franklin is an actress, comedian, and writer, known for Mommy Lounge Show Podcast Movie (2021), Strictly for the Streets: Vol 1. (2021) and Mommy Lounge Network Presents Ashima Franklin's Comedy Show (2021).
Just Nesh is a comedian and actress known for Oh No He Didn't (2015), Not Another Black movie (2016), All Def Comedy (2017), and 2 Minutes of Fame (2020) and can be seen on HBO, Comedy Central, TruTV, and Showtime.