Rent or Buy Now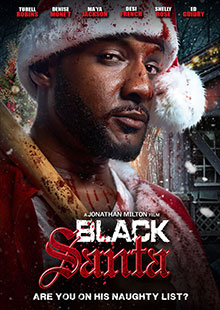 Black Santa
Own It November 07, 2023
Genre: Holiday, Horror, Thriller
Runtime: 83 Minutes
UPC: MAV-6039, 824355603927
Storyline
Growing up in the suburbs of Houston, Texas, Stephon and Blake Blanton are happy and come from a loving family. Their Christmas days were filled with gifts and so much joy. All this changes in the blink of an eye, when their lives are suddenly turned upside down, and they end up in the home of Ms. Mary.
Produced By
Jonathan Milton
Directed By
Conrad Craven
Cast
Turell Robins, Denise Mone't, Ma'ya Jackson, Desi French, Shelly Rose, Ed Guidry
About the Crew
Jonathan Milton is a director and producer known for The Foreign Exchange Student (2018), The Perfect Wife (2019), Behind Closed Doors (2020) Homewrecker (2023), and Unfinished Business (2023).
Denise Mone't is a writer, director, producer and actress. She has directed 5 independent feature films including Hidden Agenda, Behind Closed Doors 2, The Ring Widow, My New BFF, and Dirty Thirty and has acted in Unfinished Business, The Killing Secret, The Perfect Wife 2, and many more.
Turell Robins is an actor known for Queen: The Awakening (2020), Behind Closed Doors 2 (2023), and Bissonnet (2023).