Rent or Buy Now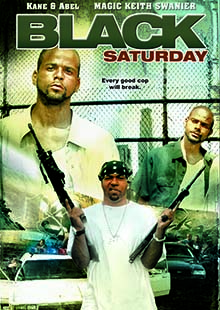 Black Saturday
Own It June 21, 2005
Genre: Action
Runtime: 72 Minutes
UPC: DVD: MAV-5120, DVD: 824355512021
Storyline
Black Saturday is the story of Gary Guns (Mr. Magic), the most notorious street hustler that New Orleans has ever seen. After serving a ten year bid in prison, he is back on the streets. Determined to get back to his previous "street kingpin" status, Gary plans to rob two local dealers and their crack house to defend his old turf. But the planned heist turns into complete pandemonium when the mayor's daughter is trapped inside of the crack house that the dealers work out of. The Mayor authorizes the police to shoot first and ask questions later in order to save his daughter from the bloody street war. On this black Saturday morning the streets will run red with blood.
Cast
Magic Keith Swanier, Troy Anders, Chauvon "M.O.N.E." Higgins, Kane and Abel.
About the Crew
Great urban action featuring Mr. Magic from the 504 Boyz
Gallery
Gallery Images are Coming Soon.