Rent or Buy Now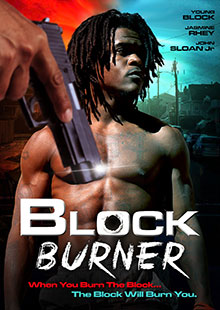 Block Burner
Own It October 26, 2021
Genre: Action, Drama
Runtime: 99 Minutes
UPC: MAV-5761, 824355576122
Storyline
Based on the true-life rags to riches story of Young Block. Born without a father, and raised by his mom and her abusive boyfriend, Young Block learns the games and struggles of growing up in the hood. When you burn the block, the block burns you.
Produced By
Chad Hendricks & Khiry Terry
Directed By
Chad Hendricks
Cast
Young Block, Jasmine Rhey, John Sloan Jr.
About the Crew
Chad Hendricks is a writer and director known for Kracker Jack'd (2003), Block Burner (2012), Trapp Life (2013). He also wrote and starred in Me and Mrs. Jones (2018).
Tavares Walker is known for writing Trapp Life (2013) and Boss Moves (2021). He starred as "Lucci Kruz" in Trapp Life and "Lue Kane" in Boss Moves.