Rent or Buy Now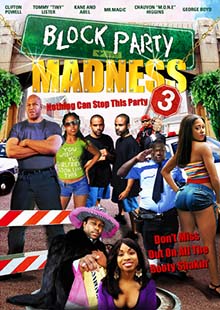 Block Party Madness
Own It September 09, 2008
Genre: Comedy
Runtime: 75 Minutes
UPC: MAV-5263, 824355526325
Storyline
AJ and his homie Trip are determined to throw the hottest block party of the summer, for the third year in a row. This year there will be more obstacles than ever, but nothin' can stop these boyz from having a good time.
Directed By
Dan and Dave Garcia, a.k.a. Kane and Abel
Cast
Clifton Powell, Tommy "Tiny" Lister, Kane and Abel, Mr. Magic, George Boyd, Chauvon "M.O.N.E". Higgins
About the Crew
Tommy 'Tiny' Lister-Has appeared in numerous music videos including Sublime's music video for 'Santeria'. He has also starred in Jackie Brown, The Players Club, One Night with the King, Hellborn, and Miss B's Hair Salon. Had a stint in both the WWF & WCW professional wrestling circuits appearing under the name 'Zeus' and 'ZGangsta.'.
Clifton Powell won Best Performance by an Actor at the American Black Film Festival for his role in Civil Brand. Starred in Street Kings, First Sunday, Norbit and opposite Jamie Foxx in Ray, and is the winner of several NAACP awards.
Special appearance by rapper Lil Flip.