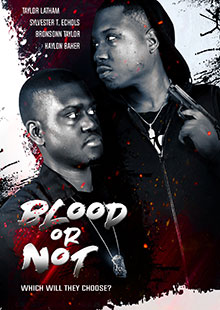 Blood or Not
Own It October 24, 2023
Genre: Drama, Suspense
Runtime: 77 Minutes
UPC: MAV-6015, 824355601527
Storyline
Two brothers, one of the law, the other of the streets, find themselves making the choice of "Blood" or "Not".
Produced By
Ayanna Shon, Emuni Sanders, Sonya Johnson
Cast
Taylor Latham, Sylvester T. Echols, Bronsonn Taylor, Kaylon Baker
About the Crew
Ayanna launched CBA film studio in her home town, a full-service production company focused on creating original content with a driven focused in green screen music video production. She is known for Put Up or Shut Up (2017), Star the Film (2018), Christmas Hypnosis (2021) and The Eye (2023).
Taylor Latham is an actor known for #Clout (2022), The Gas Station (2022), and Plugged (2023).