Rent or Buy Now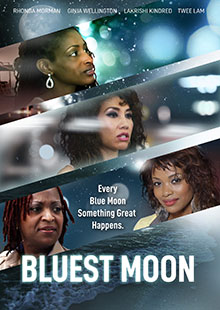 Bluest Moon
Own It June 19, 2018
Genre: Drama
Runtime: 110 Minutes
UPC: MAV-5555, 824355555523
Storyline
Friends must lean on one another for relationship advice in order to find peace within their individual relationships with men. Sheila needs a lot more than friendly advice when it comes to her relationships. She needs professional help. Will she realize this before it's too late?'
Produced By
Lakrishi Kindred
Directed By
Mark E. Ridley
Cast
Lakrishi Kindred, Rhonda Morman, Ginja Wellington, Twee Lam, Keeland Ellis, Clinton Gunnels,Marston Fobbs, Jermaine Jacox
About the Crew
Lakrishi Kindred is an actress and producer, known for The Skeleton Key (2005), Perfect Man (2011) and Bluest Moon (2017).
Rhonda Morman is a NAACP Nominated Best Supporting actress known for Her Little Secret (2017), The Lost Souls Café (2017), The Choir Director (2018).
Mark E. Ridley is an actor and director, known for Because We're Thespians (2014), Stolen Breath: The Truth Revealed (2016), Mind of a Single Male (2015), and The Dark Side to Love (1984).
Tasha Scott is an American actress and singer. She appeared in shows, including Snoops, South Central and The Parent 'Hood, and in movies such as Troop Beverly Hills, Kiss Shot and Camp Cucamonga. She also played the role of Dorothy in the US national tour of the musical The Wiz from 1996 to 1997. She also played Effy in Season 3, Episode 12 of Quantum Leap.
Gallery