Rent or Buy Now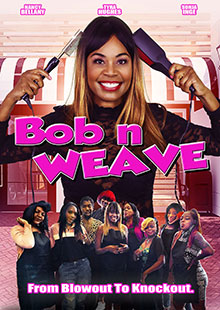 Bob N Weave
Own It September 20, 2022
Genre: Comedy
Runtime: 67 Minutes
UPC: MAV-5860, 824355586022
Storyline
An up and coming hairstylist joins a competitive hair salon where her dreams of greatness are guided by her mentor who is bound and determined to realize an apprentice's capability.
Produced By
Nancy Bellany
Directed By
Nancy Bellany
Cast
Nancy Bellany, Tyra Hughes, Sonja Inge
About the Crew
Nancy Bellany is a stand-up comedian/writer/director/producer/actor known for Pastor Jones Preachin' to the Choir (2009), Da Booty Shop (2009), Saved by Grace (2020), and Prodigal Husband (2020).
Tyra Hughes is an actress known for Cordially Invited (2007), Nobody Smiling (2010), Stranded by Existence (2013), and Saved by Grace (2020).