Rent or Buy Now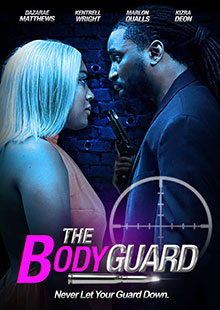 The Bodyguard
Own It April 11, 2023
Genre: Thriller
Runtime: 75 Minutes
UPC: 824355591729, 01:15:28
Storyline
After Candace Maxwell survives an attempt on her life, former hitman, Quincy, signs up for the job as her bodyguard. His job is to protect her from double-crossing, dirty cop, Mike Rivers.
Produced By
LaQuita Langhorn
Directed By
LaQuita Langhorn
Cast
Dazarae Matthews, Kentrell Wright, Marlon Qualls, Kizra Deon
About the Crew
LaQuita Langhorn is a novelist turned screenwriter. She has published more than 20 novels and has graduated with a Bachelors of Arts in film and video production. She hopes to inspire others to follow their dreams and encourage growth and diversity in the film industry.
Kentrell Wright is an actor known for Blood Hero (2018), Vindication (2019-2021), and Secret Obsession (20220.