Rent or Buy Now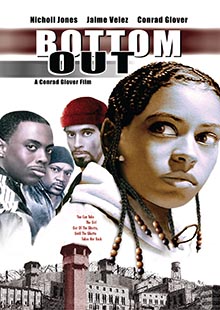 Bottom Out
Own It June 15, 2004
Genre: Action
Runtime: 82 Minutes
UPC: MAV-5068, 824355506822
Storyline
Bottom Out is an urban story about average people who, through crime and immoral actions, try to make it good but keep crossing the line between what's right and wrong. Just released from a drug treatment center, Kelly quickly returns back to her criminal ways. She meets Tito who is a hardened criminal recently released from prison and has been robbing banks since his release. Kelly soon discovers $250,000 Tito has stolen from a bank. She decides to steal the money to make a clean break and make her dreams come true. But the cops are closing in on Tito, and when he tries to escape, he realizes Kelly has taken his cash. He begins to look for Kelly, find his money and kill her. In a cat-and-mouse ending, Kelly tries to make it clean using stolen money, Tito hides from the cops while trying to find Kelly, they both crossover the morality line while justifying their criminal values. But in the end, they both just Bottom Out.
Directed By
Conrad Glover
Cast
Nicholl Jones, Jaime Velez, Conrad Glover, Beverly Lauchner, Thom Purdy, Lamont Copeland, James Edward Lee, and Franklin Ojeda Smith
About the Crew
This independent urban film speaks to all youth, have large cross over appeal due to character development. Good story intertwining good and evil.