Rent or Buy Now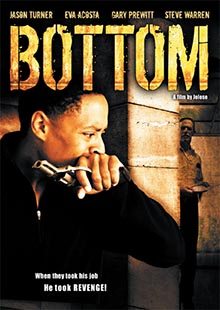 Bottom
Own It December 20, 2005
Genre: Drama
Runtime: 89 Minutes
UPC: MAV-5111, 824355511123
Storyline
Derrick Jones' dream is to provide financial security for his family. But unjust corporate cutbacks leave him alone, penniless, and with a new baby on the way. His dreams lost at the other end of a liquor bottle. Just when he's about to hit rock bottom, Derrick snaps and recognizes that sometimes, revenge is the ultimate guarantee for justice. In the spirit of Changing Lanes, and Falling Down, Bottom depicts the destruction of the human spirit, when it dangles at the end of the bottom line.
Cast
Jason Turner, Eva Acosta, Gary Prewitt, Steve Warren, Sherie Debelotte, and Kermit Rolison
Gallery
Gallery Images are Coming Soon.