Rent or Buy Now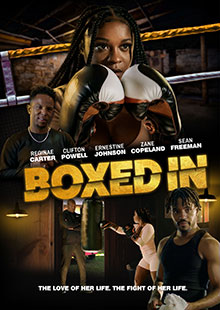 Boxed In
Own It November 01, 2022
Genre: Drama, Romance
Runtime: 95 Minutes
UPC: MAV-5896, 824355589627
Storyline
Ria is an up and coming female boxer whose one and only focus is to be the best boxer alive. That's until she meets Tuga, who shows her that a life without love really isn't a life at all.
Produced By
J. Carter, LaShon Carter, Javier McIntosh, Tenia Wright, Reginae Carter, Chiquita Hooks, Ariel Julia Hairston, Azaria Oldacre, Kirsten Grace Hoge
Directed By
Ariel Julia Hairston
Cast
Reginae Carter, Clifton Powell, Zane Copeland, Sean Freeman, Ernestine Johnson
About the Crew
Reginae Carter, the daughter of Lil Wayne, has 6.6 million Instagram followers and this is her lead acting debut. She has also been in Growing Up Hip Hop: Atlanta (2017-2018), MTV Cribs (2020), Social Society (2022), and Terror Lake Drive (2022).
Clifton Powell is an actor and producer, known for the films Ray, Selma Lord Selma, Dead Presidents, and Menace 2 Society, and the TV series The Family Business, Sacrifice, and Saints & Sinners.
Zane Copeland aka Lil Zane known for Doctor Dolittle 2 (2001), Love by Chance (2017), Gutter(2022), and BMF (2021).
Ernestine Johnson is an actress known for Think Like a Man Too (2014), Make Time 4 Love (2015), Downsized (2017), The Holiday Switch (2021), and Scheme Queens (2022).