Rent or Buy Now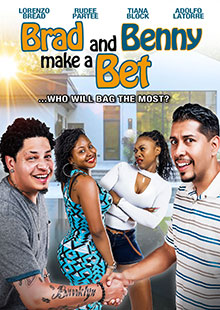 Brad and Benny Make a Bet
Own It February 22, 2022
Genre: Comedy, Romance
Runtime: 117 Minutes
UPC: 824355576627, MAV-5766
Storyline
Brad and Benny make a bet who can bed the most women. Along the way Benny finds more than a one night stand.
Produced By
Adolfo Latorre
Directed By
Adolfo Latorre
Cast
Adolfo Latorre, Lorenzo Bread
About the Crew
Adolfo Latorre is an actor and director known for Twisted (2014), My Wife and Me (2020), and Hey Stupid (2021).
Lorenzo Bread is an actor known for Octagona (2019), and Brad and Benny Make a Bet (2022).