Rent or Buy Now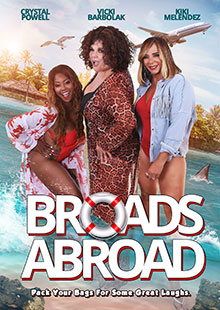 Broads Abroad
Own It September 20, 2022
Genre: Comedy
Runtime: 88 Minutes
UPC: MAV-5869, 824355586923
Storyline
The pompous Latina, Kiki Melendez (Showtime Networks Hot Tamales Live!) Vicki Barbolak (aka Trailer Vick from America's Got Talent on NBC), and Crystal Powell (America's Got Talent on NBC) embark on a much needed vacay, creating a unique Comedy Special/Travel extravaganza through the gorgeous island of the Dominican Republic. Pack your bags for a laugh out loud adventure!
Produced By
Julia Carias Linares, Erica Barrabi
Directed By
Ramon Herrera, Kiki Melendez
Cast
Kiki Melendez, Vicki Barbolak, Crystal Powell
About the Crew
Christian "Kiki" Melendez has been writing and creating content for television and film for over 20 years. Her first docu-comedy, Journey Of A Female Comic, received critical acclaim and was Oscar qualified in 2015. She has created, produced, and premiered multiple television projects for both markets on a national level, such as top-rated Kiki Desde Hollywood on Galavision, The All-Female Comedy Special, Hot Tamales Live on Showtime Networks, Locos Y Contentos on Estrella TV and Kiki Mobile on A&E's FYI Networks. Currently, she is the founder of Omni Cultural TV Fest,a one-of-a-kind television expo that celebrates diversity and inclusion.
Vicki Barbolak was discovered by Mitzi Shore, the owner of the World-Famous Hollywood Comedy Store, at a Sunday night showcase at the La Jolla Comedy Store. In 2018, Vicki was a finalist on America's Got Talent. Simon Cowell said "Vicki, I think you are the funniest person we have ever had on the show." Suddenly, after twenty years of hard work in Comedy, thanks to the millions of AGT viewers worldwide, Vicki became an overnight success.
Handing award-winning comedian Crystal Powell a mic is like lighting a fuse under a powder keg. She can be seen as a guest correspondent on long-running syndicated FOX TV show Dish Nation and as a contestant on Season 15 of Emmy-winning America's Got Talent. She was chosen from hundreds to represent one of the best comics around the country for Kevin Hart's nationally syndicated hit TV show, Hart of the City, which debuted on Comedy Central.