Rent or Buy Now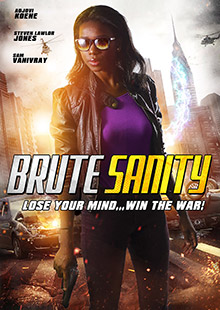 Brute Sanity
Own It October 16, 2018
Genre: Action
Runtime: 100 Minutes
UPC: MAV-5563, 824355556322
Storyline
Keradin, an up-and-coming FBI agent, successfully extracts a stolen artifact from a den of criminals, despite freakish hallucinations. A year later, Keradin has returned to academia as a postdoctoral researcher in neuropsychology. Her former FBI boss, Maskin, swarms her research center with a group of agents to find a second artifact - a device which can alter reality. Realizing Maskin has sinister intentions, Keradin teams up with a thief to find the artifact first while Maskin unleashes bizarre traps to stop her.
Cast
Adjovi Koene, Steven Lawlor-Jones, Sam Vanivray
About the Crew
Sam Vanivray is an actor and writer, known for Brute Sanity (2017), Enough to Be Dangerous (2015) and Bad Art Cops (2018).
Adjovi Koene is an actress and producer, known for Friction (2016), 3.0 Safaar (2016) and Aster and Sidney (2016).
Steven Lawlor Jones is known for his work on The Ungovernable Force (2015), Brute Sanity (2017) and O' Bloody Night (2017).
Gallery